Dojo Monthly Newsletter

2020 Newsletter
Please Welcome our Newest Students
I would like to personally welcome all of our students recently enrolled!  See Kyoshi, Sensei Coy or Sensei Jessey if you have any questions or personal needs.  Also, please take advantage of our 4 week student referral program.
—————————————————————————————————————————————————————————————————————-–
*** Leadership Meeting Saturday, November 14th @ 8:00AM.
All youth class students invited.
This free once a month class is a small chat about becoming better versions of ourselves at home, in the dojo and our community!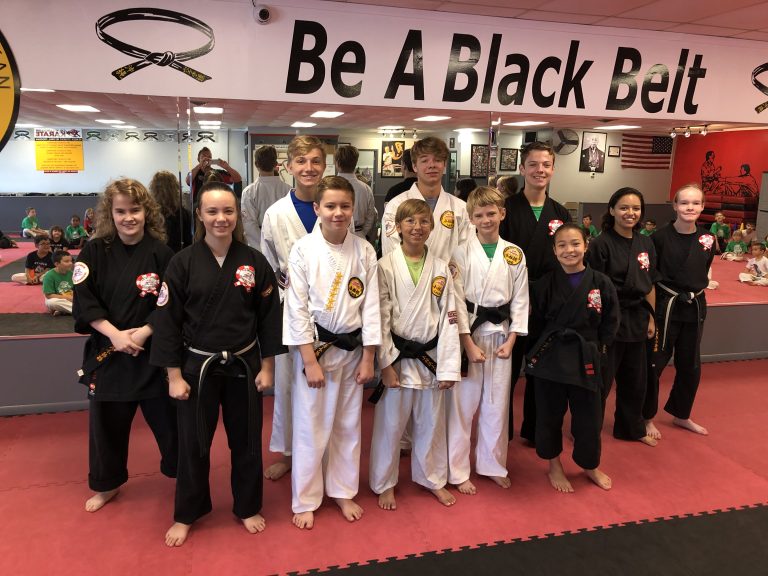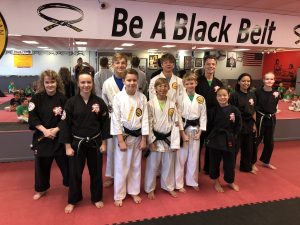 Employee Team Meeting – Saturday, November 7th
_________________________________________________________________________________________________________________________
Black Belt Training

Weapons Schedule
Weapons for November
Bo- Jr. Kobudo beginners.



Sai – Jr. Advanced Kobudo
Sai – Beginner & Advanced Youth/Adult
Eku and Nunchaku will begin in December
November Kobudo Graduation Friday, November 20th
Kobudo All Jr. Blue Ranks 6:30PM
Kobudo Youth/Adult  Blue Ranks 6:30PM
All green and above kobudo graduations are held in April, July, October and January.

---
November/December Dates to Remember!
November 7th- Picture Day/Holiday Sale (No regular classes)
November 11th – Veteran's Day – We are open!
November 14th- Leadership Meeting
November 20th – End of the Month Graduations
Thanksgiving Holidays Closed N0vember 25th-29th
December End of the month graduations Friday Dec. 11th/and 12th
—————————————————————————————————————————————————————————————————————–
Picture Day and Holiday Retail Event!
Saturday November 7th @ 8AM
Be sure to get an appointment at the front counter for our Picture Day
—————————————————————————————————————————————————————————————————————–
November – End of the Month Graduation for Students
Friday, November 20
Juniors Karate 4pm-orange,purple and blue belts
Youth/Adult Karate 5Pm- orange, purple and blue belts
(Invite Only) Pre Kicks, Jr and Youth/Adult Karate—- Black Stripe and Gold Belt -6:00PM
Kobudo All Jr.Blue Ranks and Youth Adult 6:30PM
——————————————————————————-
***Parking Reminder***
No parking in front of Artful Things
No Parking in Front of Berkshire Hathaway until after 5:00PM (you will be towed)
We suggest our parents and students use the back parking lot and back entrance to the dojo.
Thank you, STAFF
—————————————————————————————————————————————————————————————————————–
Mask Class Wednesday Night only
If you plan on participating in class on Wednesday Nights, Youth or Adult, it is highly encouraged to wear a mask!
This for the 6:50PM and 7:30PM karate classes only
—————————————————————————————————————————————————————————————————————-
—————————————————————————————————————————————————————————————————————–
Park in the Rear
Remember this parking behind the dojo and you can use the rear entrance.  We are not allowed to park in front of Berkshire Hathaway until after 5:00PM! 
Basic Program Students and Trial Students
These students are allowed to come twice per week.
——————————————————————————————————-
Attendance Card Responsibility!
It is our duty as a school to set the standard for our students.  We want to be sure that all students  youth (10-14) or adult are pulling their attendance card before class starts.  In failure to pull your card, you will not get credit for that class.  This is the responsibility that we put in place for our students.  Asking to add classes the day after or any other situation will not be accepted.
3 tips to help remember:
Be on time
Directly go to the card box on your way in.
Look at your card everyday, look at the dates, see how many you need to reach your next goal!
___________________________________________________
Others want to know your experience!
Let's face it, every decision we make when it comes to the things we do or where we go starts with Google.  We all pay attention to the reviews each individual business acquires.  Please help others know what your experience has been like at our school!
Other parents have:
Talked about the cleanliness of the school
Give instructor shout outs
or even what Martial Arts has done for your family.
Follow the link to leave us a google review! ….."Click the tab leave a review"
https://www.google.com/search?source=hp&ei=EelnXeatA4GwtQXY5o-gDg&q=C+D+Williamson+Karate+%26+Kckbxg%2C+John+Sims+Parkway%2C+Niceville%2C+FL&oq=cdwka&gs_l=psy-ab.1.0.38.1432.3153..4246…0.0..0.110.507.3j2……0….1..gws-wiz…….0i131j0j35i39j0i10j0i10i30j0i5i10i30._tB1M0YiS8g#lrd=0x889169ae39d8a695:0xd636df15f4052ef9,1,,,
Thanks,
CDW Karate Team
—————————————————————————————————————————————————————————————————————–
Social Media Presence
You guys are the reason we even have the opportunity to be successful and we are so thankful for that.  I just wanted to let you know about a couple things that will be happening around our school:
Every Monday- Kickin It with Sensei Coy:  this is a live Facebook video to let parents know whats going on at the dojo the upcoming week!
1st of the month we will take some photos of our students during classes to help branding with our school and to show emotion at our school.
2-3 Times per week we will do a Facebook Live video of our classes. This gives your child the opportunity to be a superstar while again letting the community know how we teach kids, youth and adults, Martial arts and life skills!
Our goal as a karate school is to instill quality Martial Arts to all of our students and the community!
If you have any questions please see Sensei Coy!  *** If you would not like your child to participate, please let us know.
____________________________________________________________________
---
---
As of August, 1st 2019
If you do not come to belt graduation on the assigned date and you wish to have a private graduation you will have an additional fee.
Too many students have been missing the assigned graduation date.  Please be sure to mark calendars for assigned testing days.
Orange, Purple and Blue Belt Ranks=$40 + graduation fee.
Green and Brown=$100 (2 hour test) + graduation fee.
---
No Phones during classes!
Parent's we need your help during class time.  When you bring your child to class we want our parent's focus on their child and what they are doing.  Cell phones have been a great invention but they tend to get in the way at times.  We want our children to feel important and know their parent is watching them on the mat.  This is a great way to keep up with holding them accountable with what they learned and behavior.  I think we all can benefit from putting away the phones for 30 minutes.  By all means, if you have to take a call, please step outside and do so.
---
New Birthday Packages
Did you know you can schedule your child's next Birthday experience at your karate school?  We have 4 brand new packages that includes dodgeball and nerf war options for your child's karate birthday party.  See Sensei Coy for a pricing sheet and available dates.
​Cash Graduation Fee's (save $$$)
Pay your belt graduation fee in cash and receive a $5 buck discount.
---
Things to Remember
1. Please park in the rear leave our up front parking for our new guests.
2. Turn cell phones off or on vibrate during class.
3. Please don't stand by the wall next to the mat. It is distracting to the students and the instructors.
4. No food or drinks in the dojo – PLEASE!
5. No students under any circumstances should be at the Dojo more than 10 minutes before his/her class without permission from Kyoshi.
6. ALL patches must be on all Gis that you wear to class. Black Gis have to have chest and sleeve patches.